This shop has been compensated by Collective Bias, Inc. and its advertiser. All opinions are mine alone. #DineALaCat #CollectiveBias
If you have been a long time reader you would already know about my Long Haired Beautiful Cat who is basically the joy of my life.
This little beauty can get sassy if you don't smother her with love and attention. I also recently did a complete Cat Corner Makeover just for her which you should definitely check it out.
So today I wanted to share some fun ways to pamper your cat.
First things first, Food is the most important part of making your cats life and it should be yummy as well as healthy. In my case my cat loves everything from Purina Fancy Feast® be it dry food, pate, grilled or chunky meat. Just recently I bought Purina Fancy Feast® Broths Tuna Whitefish Shrimp Classic and Purina Fancy Feast® Appetizer White meat chicken in a delicate broth as it complements any meal, or can be used as a special treat and let me tell you she absolutely loved it.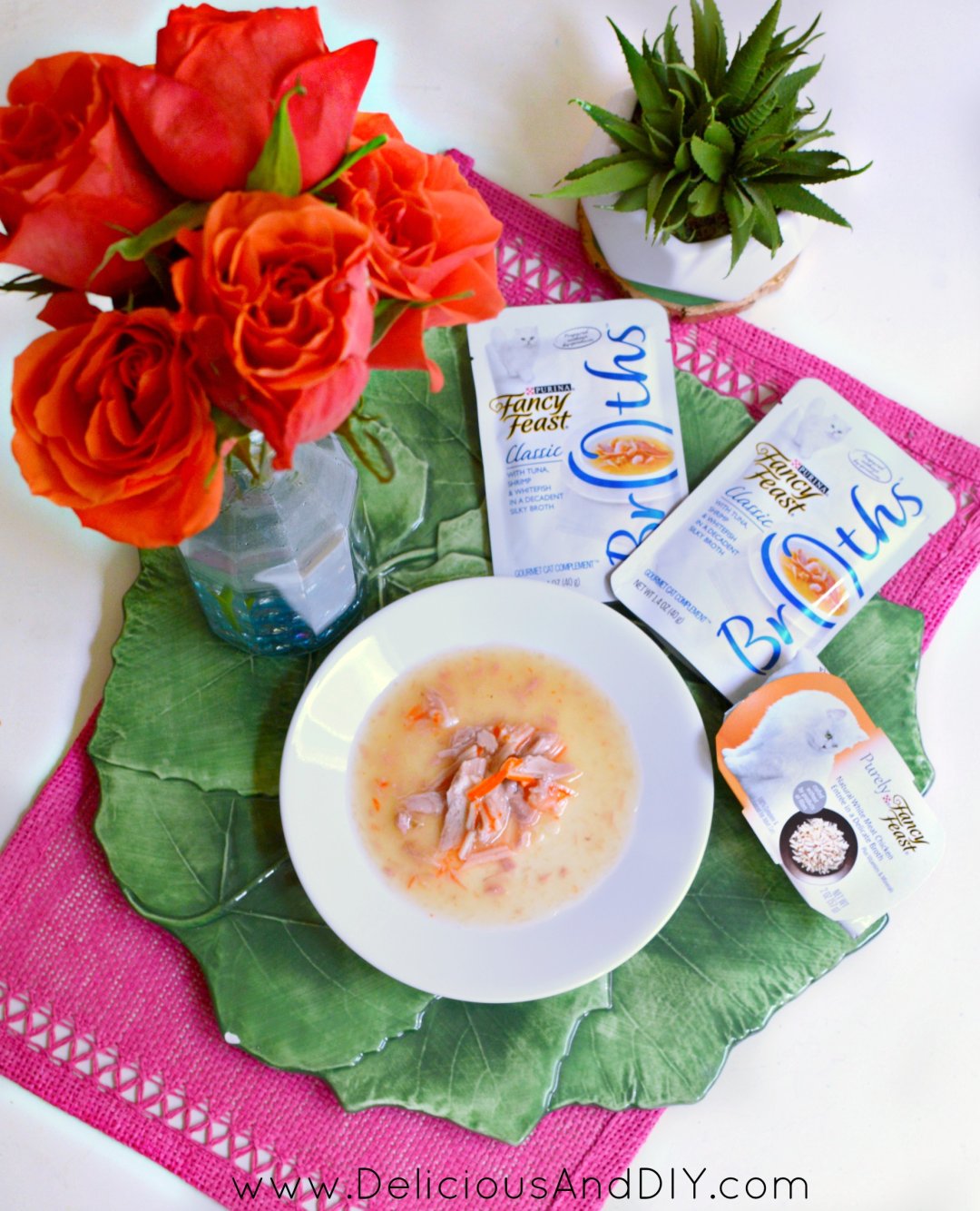 And if you are interested in purchasing it for your cat then just hover over the image so you can click through to PetSmart.com to purchase it.
I purchase all my cat items from PetSmart. Not only do they have great deals happening but they have everything that your pet wants from food to toys and much much more.
And you can see that it has complete products of Purina Fancy Feast® so you can easily purchase these items and right now it is a great time to purchase as there is an Ibotta offer beginning on 9/5, where you can earn cash back when you buy any two (2) Purely Fancy Feast® Filets, for a limited time.
So after food, toys are important for your cats well being and for your own sanity because if they are not entertained they will make it a point to let you know by acting out.
If my cat does not get her play time in with the toys she likes then she gets really grumpy.
She specifically loves these feathery toys and mouse shaped toys I buy from PetSmart. I make it a point to stock up on them as she makes all of them disappear in places I can never imagine. So it is always good to have back up on hand.
Bedding, is another important aspect to pampering your Cat.
It should be comfortable, soft and in a place where your cat loves it the most. My cat loves it near the big window as she enjoys bathing in the sunlight and she wasn't really happy when I snapped her picture in the middle of her relaxation time.
Talking about comfortable bedding it is also really important to have a clean litter for your cat and I make it a point to clean it twice a day plus your home will keep on smelling fresh.
And lastly the most important part is to give time and attention to your cat. All they want is your company and love. You can share it in various ways and my cat definitely loves it when I add various treats in between her meals.
I think it is safe to say she loves Food.
And she shows it by completely licking and wiping off every bit of food from her plate.
And there you have it!
If you have some other tips and ideas I would love to hear them.